Well, sort of anyway. How did I do it? I managed to flip one item to buy another, which was really easy! You can do it too, you just have to be on the lookout for a good deal.
Despite my first home being considered "move-in ready," I have to put my own stamp on the place. Is anyone surprised by this? Well, I decided that I wanted to spruce up some of the fixtures, cause honestly, the original 18-year old brass chandelier that is currently marring my dining room has got to go. The boyfriend and I have been looking for a while and trying to decide what we want. Well, we had finally decided on this nice modern one from Lowes.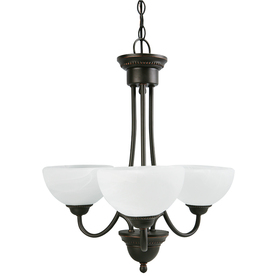 Photo borrowed from Lowes.com
So, despite really liking this one, we've still been looking at other options until we get to the point that we've finished the rest of the dining room. (Which will be this weekend, most likely) Well, during a recent shopping trip with my mom at Lowes, I found this $198 chandelier for, get this, $20!!
Yeah, not a typo there, it was really only $20. Not sure how this fixture made it through two price reductions, but hey I recognize a good deal when I see one! I really didn't want a traditional style chandelier, but I liked the scroll work so I figured I'd give it a try. Unfortunately, the picture on the box is very deceiving- this chandelier is huge and way too big for our dining room, especially when placed over a gathering-height dining table.
So, being the businesswoman that I am, I decided that instead of returning the chandelier to Lowes, I would sell it on Craigslist. (People will buy anything, really.) All I wanted was to make enough money to cover the cost of the fixture that we liked, a mere $56 bucks after using a coupon Lowes sent us. Now, there are a lot of chandeliers on Craigslist in the Pittsburgh area, so I wasn't sure if listing it for $90 would get any interest. Well, within the first day I had a woman who wanted it and wanted it immediately!
I've covered the cost of the original chandelier, have enough to buy the chandelier I want, and have pocketed an additional $14. I'll definitely be keeping my eyes out for more bargains that I can flip on craigslist. Who knows, maybe I'll be able to decorate some other rooms for free :)